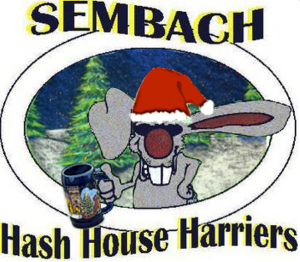 Ho Ho Ho!!! Hashers
Cum join us for the annual 12 Down Downs
You've asked for it and I will give it to you…
Arrival – Wisitors/Wanderers arrive in Kaiserslautern/Landstuhl or wherever you are staying and mentally and physically prepare for what happens next. I recommend dropping off luggage and setting up bedding for post pub crawl blissful drunken sleep.
Friday – Meetup at Kaiserslautern Stiftspl., 67655 Kaiserslautern @1930 for 2000 departure to Bars *Note the Church as a landmark next to a large market area and a Rewe. Most Hashers will be arriving via train around 1900 on Friday, worst case catch a cab to the on-start.
Bring – Thirst for beer, hilarious pub crawl clothing, hash gear or whatever you tend to use to entertain the pack (bring Euro, Pub crawl is at your own cost). K-town is loaded with ATMs so do not fret.
Saturday – Meetup at Kaiserslautern Hauptbahnhof (netto side) Registration starts promptly @1200 with circle start @1300 – 25 Euro Rego Fee *Cash Only*
Bring – Cleansed liver, thirst for beer. Warm clothing, beanie (hat), and scarf (insert shameless promotion) purchase one from Habadashery, insert shameless promotion). Not a weather god, so we will bear trail rain or snow or both. *Not a running trail!!!* A small bag would also be great in case you receive some goodies.
Sunday – Meet at Parking lot near Oscars -Von-Richthofen-Straße 11, 66849 Landstuhl @1200. Hangover Trail Time, what does that mean for you? Well it is an opportunity for you meander over your weekends poor choices and your decision for joining us for the 12 down downs. Wear hash gear and comfortable shoes. There might be *unning, that cannot be guaranteed, but there will be trail!!
Pub Crawl *ules – Take a good look Prizes will be rewarded
Maps
Friday
https://goo.gl/maps/bjp7R2kQ9Lu
Saturday
https://goo.gl/maps/43nsMiGho1t
Sunday
https://goo.gl/maps/BnDyb8C6oYD2
Keep posted for changes and REGO Now!!!
Rego Here:
Click Here!!!
See Who's Cumming:
Who's cumming